What Are Dental Veneers?
Dental veneers Houston are wafers of tooth-colored or tooth-shaped materials attached to the front surface of your teeth. This hides deformities in your teeth and enhances your general appearance.
The best aspect of veneers is that it's a single solution to cover up all of your deformities, be its crooked teeth, stained teeth, chipped teeth, or others. If you address these issues separately, you'd have to get several different dental veneer procedures done, which will be time-consuming, extremely expensive, and may not guarantee perfect results. But, with dental veneers Houston, you can completely transform your smile at once.
The only issue with dental veneers is that your original teeth must be altered. The dentist must shave a few millimeters off your enamel to accommodate the veneers. The procedure is permanent; you'll always need veneers because enamel doesn't grow back.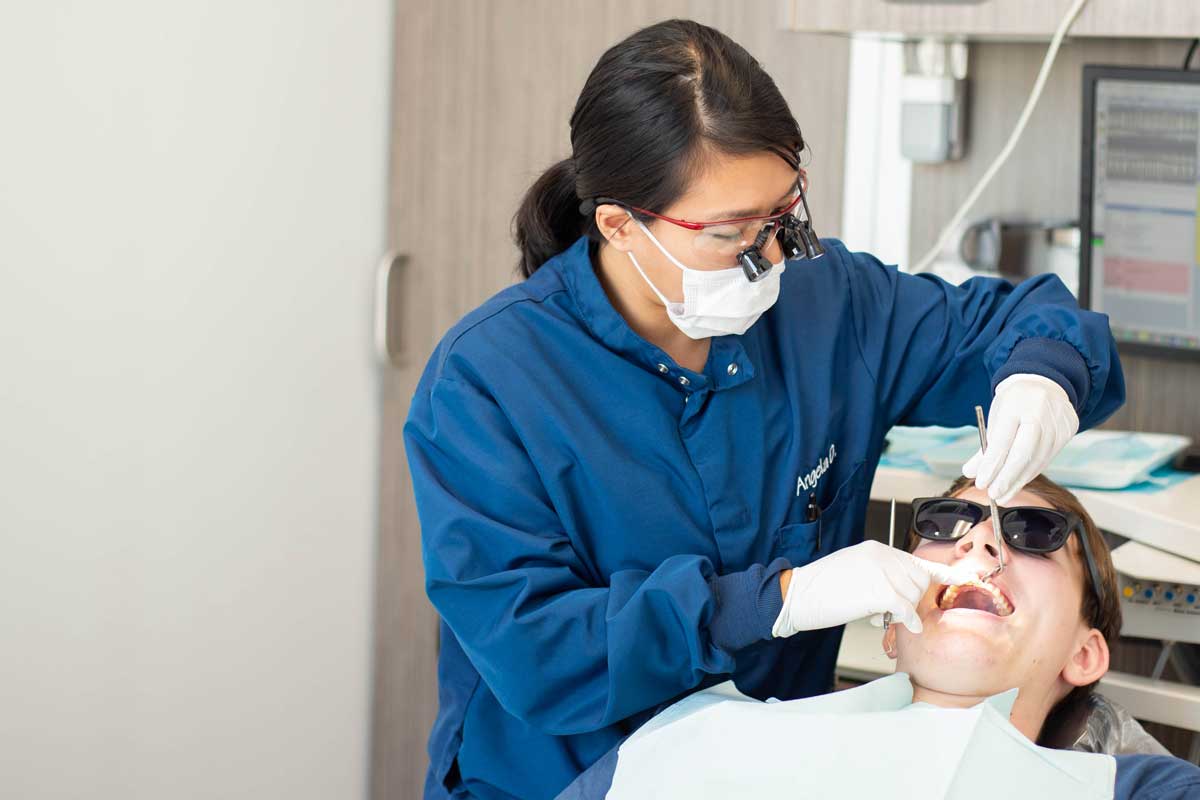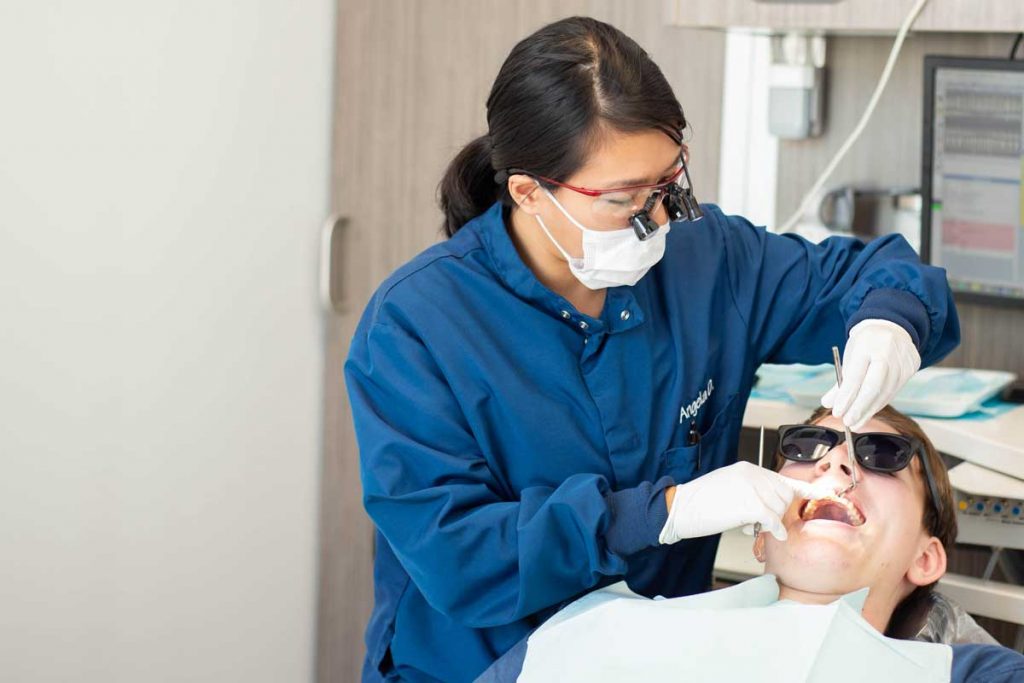 Who Needs Dental Veneers Near Me in Houston?
You need dental veneers near me in Houston in the following cases:
Enhance the overall aesthetic appearance of your teeth if they are discolored beyond repair or if you have intrinsically yellowed teeth.

Cover up deformities in your teeth such as a chipped tooth, fractured tooth, etc.

Make your teeth appear completely straight even if you suffer from malocclusion and misalignment of teeth.

Filling up the gaps between your teeth.

Completely transform your smile and get rid of all deformities with a single procedure.
Dental veneers in Houston cover the front surface of the teeth. Veneers dentist near me designs them using premium dental materials like porcelain or tooth-colored composite. Veneers for the teeth are just cosmetic, and they can hide various cosmetic flaws, such as chips, cracks, gaps, and discolored teeth. Anyone interested in improving their smile's appearance should consider veneers. These dental implants can conceal damage or chipped tooth, a diastema, stains, crooked teeth, and other dental flaws.
It's crucial to remember that veneers are only a possible solution if you don't have severe cavities or gum disease. You should consider any major oral health problems before looking into aesthetic procedures. There are several affordable veneers near me, including composite resin, porcelain veneers, no prep veneers, and removable veneers.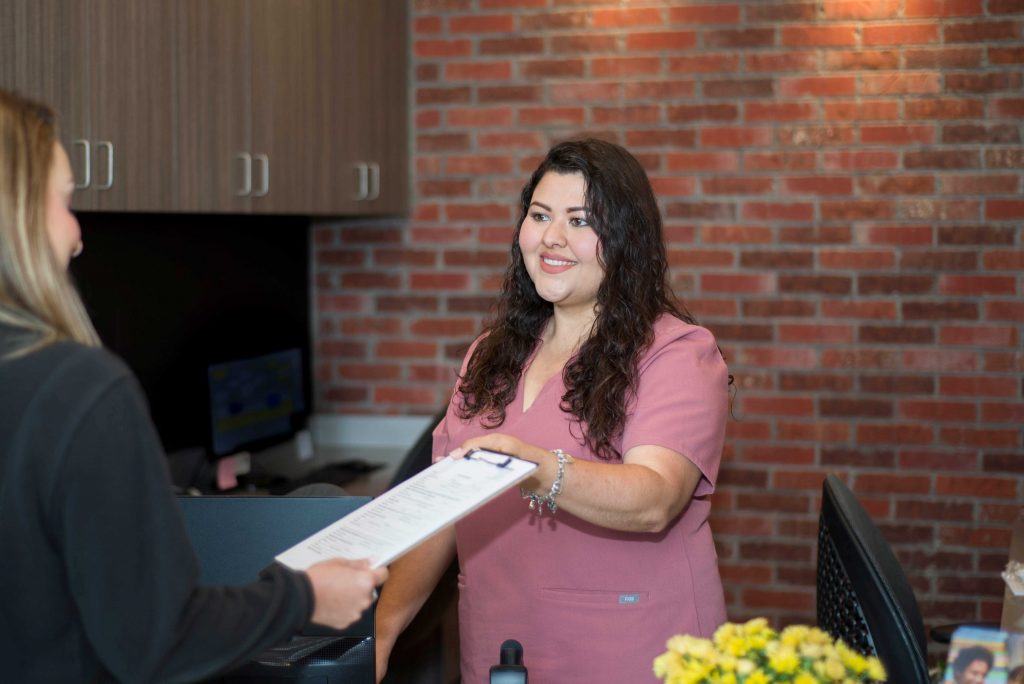 I had a root canal and a crown done here, the entire process took about an hour. Will be back in 2 weeks for my final crown! Great doctor, great staff. Michael John
From start to finish great experience. Impeccably clean office, high tech tools, & friendly staff. Went to get my top teeth contoured/shaped. They did a Hollywood star job! I now have a flawless smile. I even went back the next day for a touch-up on one tooth & they took care of it, graciously. If…
In town for a conference. Chipped a front tooth before my presentation. Called URBN and they got me in same day. Very efficient office. In less than 1 hour I was back together. Thanks again Joel
Just a few days after a visit with Dr. Bridget and I already feel the positive effects on my dental hygiene. She gave helpful and practical tips to brushing and flossing to make my routine more enjoyable. Everyone at URBN Dental Uptown was attentive and courteous to my needs from handling the insurance/financials to ensuring…
I've never been to a more thorough and comprehensive dental appointment as the one at URBN Dental! They went over all of the photos and x-rays with me in detail to help explain all of the issues I had, and it's the first time I fully feel like I understand why I need to floss…
Excellent service. Great first impression! Best cleaning I've had in several years, my mouth feels amazing. They even took the time to show me how to brush more effectively. My teeth are back to being pearly white. They were very knowledgeable in regards to my insurance and I've had no issues. The service there is…
Dental Veneers Procedure Houston TX
Getting dental veneers Houston is fairly simple. The following is an overview of how you can get dental veneers:
Go to the dentist and discuss all of your expectations with veneers. You should give a detailed and honest overview of your medical history and expectations. The dentist will determine if you're suitable for dental veneers and which type of veneers you should get.

The dentist will take an impression or mold of your teeth along with an x-ray. This will allow the dentist to ensure that the veneers are more attractive than your original teeth but that they still look like they're your actual teeth.

If you're getting traditional dental veneers, the dentist will remove some of the enamel from your teeth — approximately 0.5 millimeters. This will be done under anesthetic application so your mouth is numb, and you don't feel anything. The dentist will also place temporary veneers to protect your teeth because it will take a few weeks to prepare the veneers. This step won't be required if you're getting Lumineers.

Once the dental veneers have been prepared by the laboratory, the dentist will bond it to your teeth and then make adjustments to the shape and size to ensure they're all perfectly even. The dentist will also polish and clean the veneers so they shine just like your actual teeth.

Finally, the dentist will use a special type of light and cement to fix the veneers in place and harden them over your teeth.
How Much Do Veneers Cost Texas?
Porcelain veneers cost and composite veneers cost can vary depending on several factors, including the number of veneers you need, the type of veneers you choose, and the dentist you see. Composite veneers are made of a resin material that can match the color of your natural teeth, and porcelain veneers are made of a thin ceramic layer bonded to the front of your teeth. Both types of veneers can be used to correct a wide variety of cosmetic dental issues, including gaps, chips, and stains. On average, porcelain veneers cost from $950 to $2500 per tooth, whereas composite veneers cost between $800 and $950 per tooth.
Pros and Cons of Veneers
The following are some of the biggest pros and cons of dental veneers.
Teeth whitening cannot guarantee that your teeth will become completely white. In some cases, teeth whitening can brighten your teeth by a few shades by removing the surface stains. But it cannot remove intrinsic stains. That's where dental veneers come in.
Dental veneers can fix all of your dental issues with a single procedure so you don't have to get several different procedures done.
Dental veneers can also replace some of the worn-out enamel as you get older.
Dental veneers can be pretty expensive, even for a single tooth.
The dentist has to remove the enamel of your teeth to accommodate the veneers. This makes the procedure permanent and your teeth may also become sensitive to extreme temperatures.
Besides Lumineers, dental veneers aren't reversible.
OUR AWARD-WINNING PRACTICE HAS BEEN FEATURED IN






Dental Veneers Houston | Dental Clinic on Mid Ln
What are dental veneers and how do they work?
Dental veneers are ultra-thin shells of ceramic (porcelain) or composite resin material that are bonded to the front surfaces of teeth. They are used to improve the appearance of teeth that are discolored, chipped, misshapen or slightly misaligned. Dental veneers are custom-made and are color-matched to each patient's natural teeth. Once bonded, they give teeth a natural, healthy and bright appearance.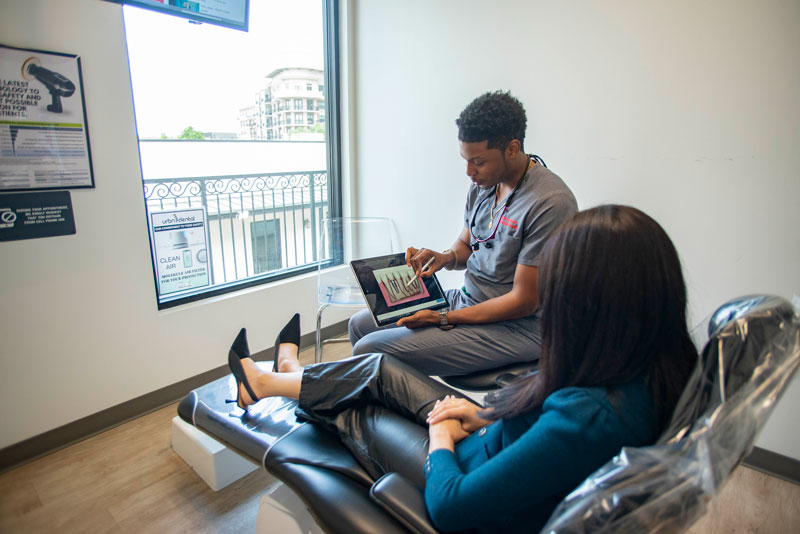 What are the types of dental veneers in Houston?
Dental veneers are traditionally made from porcelain or composite resin. Porcelain veneers are more expensive but also more durable and natural-looking. Composite veneers are less expensive but also less durable and not as natural-looking. A third option has also emerged in recent years — Lumineers.
Porcelain Veneers | Dental Veneers Houston, TX
Porcelain veneers are made from a thin layer of porcelain that is bonded to the front of the tooth. They are very strong and durable, and can resist staining and wear better than other types of veneers. Porcelain veneers are usually placed after shaving off some of the existing enamel from your teeth, so they're irreversible.
Composite Veneers | Affordable Dental Veneers Near Me
Composite veneers are made from a composite material that is bonded to the front of the tooth. They are not as strong or durable as porcelain veneers, but they are less expensive. Furthermore, composite resin can be bonded to your teeth without removing any of the existing enamel, so composite veneers are less intrusive and permanent.
Lumineers | Dental Veneers Near Me
Lumineers are a type of veneer that is made from a very thin layer of porcelain. They are bonded to the front of the tooth with a special adhesive. Lumineers are less invasive than other types of veneers and can be removed if necessary. The dentist doesn't have to shave or modify your existing teeth because lumineers are ultra-thin.
How are dental veneers placed on teeth?
To place dental veneers, your dentist will first remove a small amount of enamel from your teeth. This is done to ensure that the veneers will sit flush with your teeth. Next, they will take an impression of your teeth and send it to a laboratory, where your veneers will be custom-made. Once your veneers are ready, your dentist will bond them to your teeth using a special adhesive, following which they will be polished and finalized.
What are the side effects and risks of dental veneers in Houston?
The most common side effect is tooth sensitivity. This is usually temporary and goes away once the veneers have been placed. Other possible side effects include gum irritation and loss of tooth enamel. Risks associated with veneers include the possibility of the veneers cracking or breaking, which can be avoided with proper care and good oral hygiene.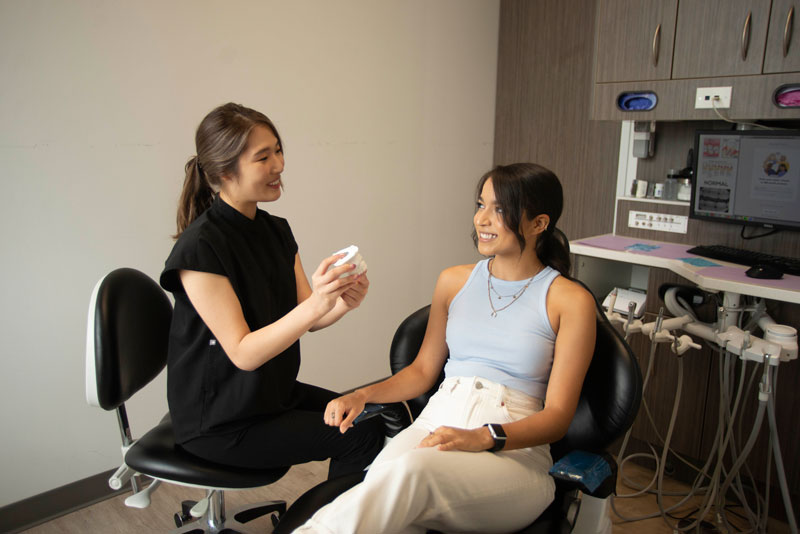 How do I get my new veneers to match my other teeth?
If you're getting veneers, you probably want them to match the color of your other teeth. Here are a few things you can do to make sure your new veneers match your existing teeth: 
Talk to your dentist about the shade of your teeth. They can help you choose a veneer color that will match your teeth.
Consider getting porcelain veneers. Porcelain tends to be more stain-resistant than other materials, so it may be a better option if you're worried about staining and discoloration.
Get your veneers done by a skilled dentist. A good dentist will be able to match the color of your veneers to your other teeth.
Ask to see a sample of the veneer before it's applied. This way, you can make sure the color is what you want.
How strong are Houston dental veneers? Are there restrictions on what I can eat?
Veneers are made of a strong, durable material called porcelain. They are bonded to the front surfaces of your teeth and can resist heavy biting forces. However, there are still some recommendations on what you can eat with veneers. You should avoid hard and crunchy foods, like candy, and sticky and chewy foods, like caramel. These types of food can increase the risk of your porcelain veneers getting chipped or damaged.