Gum Infection Treatment
Caring for your smile means providing high-quality dental care that meets all of your dental needs. Our Houston dental care services are comprehensive, which means from a routine cleaning to a complex smile makeover, we can give you the care you need. The URBN Dental team is well-versed in a wide variety of dental treatments to help our patients get beautiful, healthy smiles. All major insurances accepted, including medicare.
Gum Infection Treatment
Caring for your smile means providing high-quality dental care that meets all of your dental needs. Our Houston dental care services are comprehensive, which means from a routine cleaning to a complex smile makeover, we can give you the care you need. The URBN Dental team is well-versed in a wide variety of dental treatments to help our patients get beautiful, healthy smiles. All major insurances accepted, including medicare.
WHAT IS GINGIVITIS?
Gingivitis is the earliest stage of gum disease. It's marked by red, tender, and inflamed gums that may bleed when brushing or flossing.
What is the difference between gingivitis, gum disease, and periodontitis?
Gingivitis is an inflammation of the gums and usually precedes gum disease. Not all gingivitis progresses to periodontitis, but it's important to address it to reduce your risk of such complications.
In the early stage of gingivitis, plaque that has built up on the teeth releases bacteria into and under the gum line. This leads to the inflammation that can cause bleeding during brushing. Your gums are irritated, but the teeth remain firmly rooted in their sockets and you have no bone or tissue damage.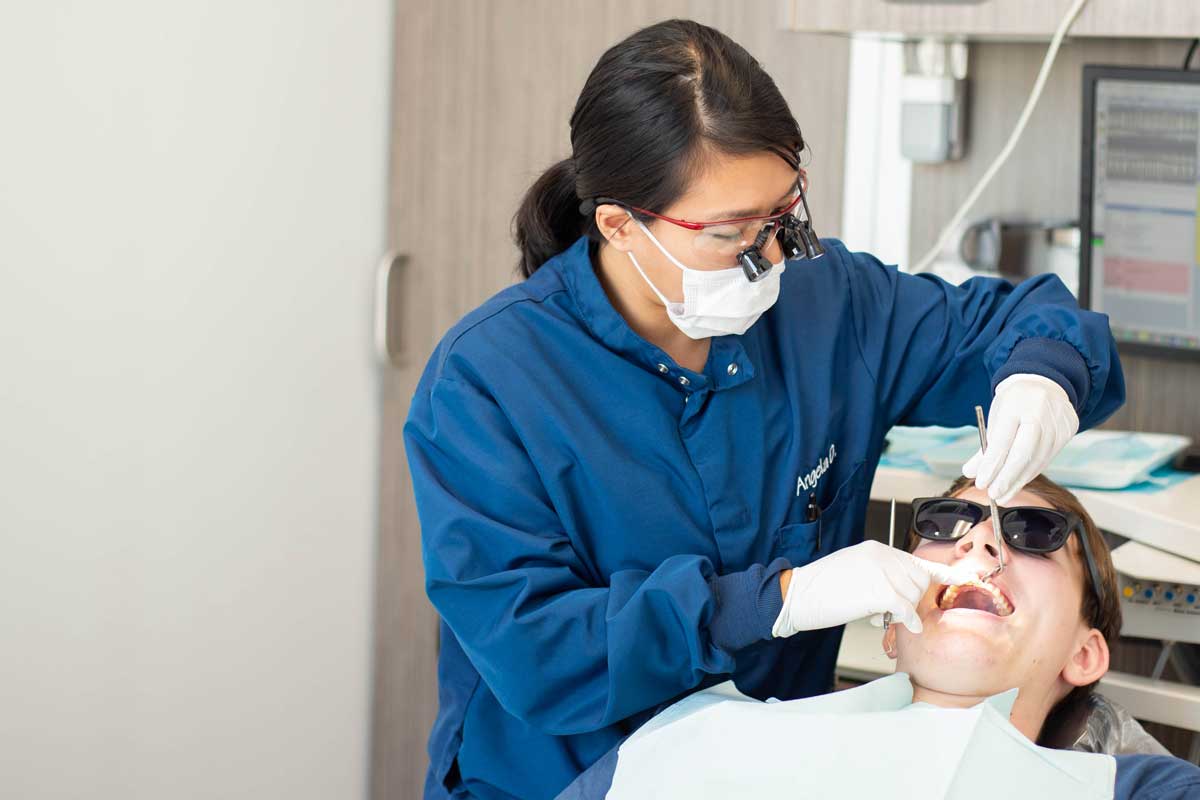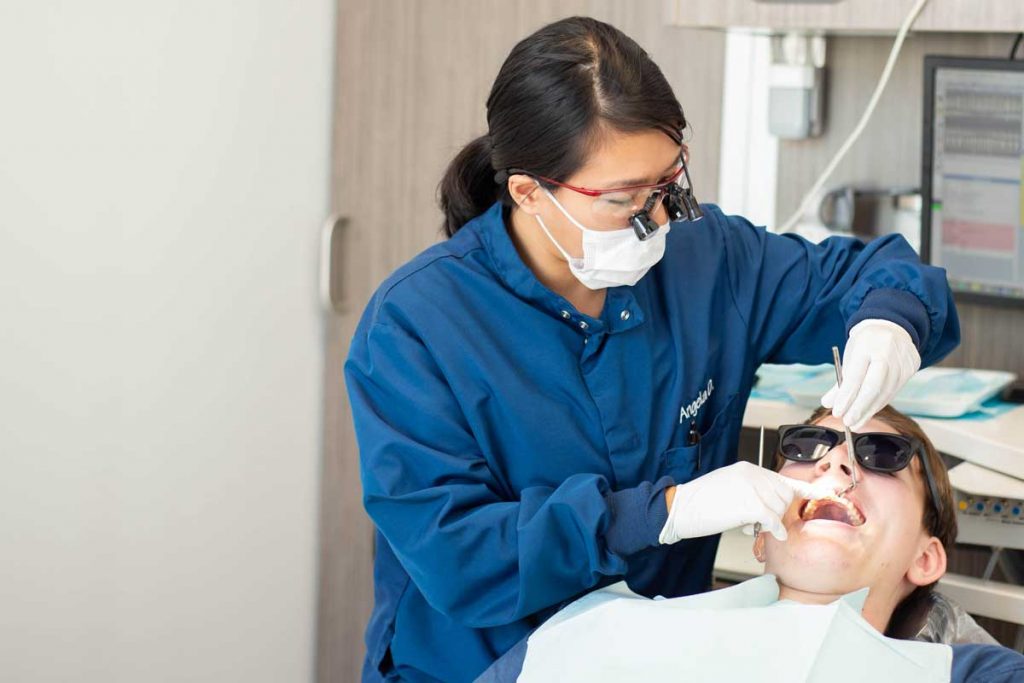 Importance of Good Oral Hygiene
Gums are the soft tissue that hold your teeth in place, protecting their sensitive roots. A gum infection can spread to the teeth, and in later stages can cause teeth to loosen or even fall out. Plus gum disease sets your whole body up for inflammation and can aggravate chronic health conditions, such as heart disease and diabetes.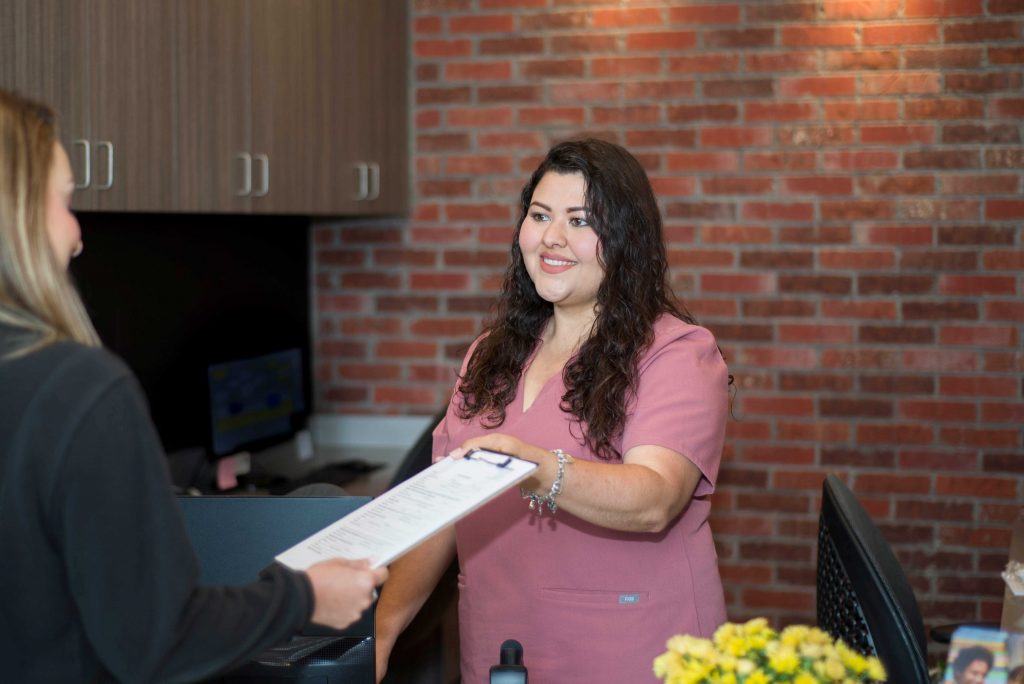 While twice yearly professional cleanings are a prudent preventive measure, you may need more frequent treatments for gum disease if you suffer from gingivitis. Dr. Bridget may recommend that you undergo a deep scaling to thoroughly remove any offending bacteria.
You also receive education about proper at-home oral hygiene. Brushing twice per day, especially after meals, and flossing at least once – or more often – is recommended. We may suggest a specific type of toothbrush to assist you in better brushing habits as well as an antibacterial rinse to get rid of any bacteria.
If our Gum Disease Treatment Specialist in Houston finds that misaligned teeth or poorly fitting crowns are aggravating your gums and contributing to your gingivitis, she may recommend fixing these problems through the appropriate restoration techniques.
So now you know about all of the potential signs of gingivitis and gingivitis symptoms. If you notice or identify any of them, you need to contact your doctor for gum disease treatment immediately.
The gum disease dentist will first run a series of tests in order to understand your gingivitis symptoms and examine your oral health. X-ray scans may be necessary in order to visualize any possible defects in your bone, teeth, or jaw structures. After the primary examination is done, the dentist will recommend a gum disease treatment plan for you.
Are you wondering how to get rid of gingivitis? Well, the first step in gum disease treatment is a deep dental cleaning session comprises scaling and root planing. During the scaling procedure, the dental hygienist will remove all of the accumulated plaque and tartar using a scalar device. The accumulated plaque and tartar is often the primary cause of bacterial decay and gum disease, so removing them is the first step.
The next step in gum disease treatment is called root planing. During this procedure, the dentist will smoothen out the root of the infected tooth so the gums can be reattached to the teeth and the receding gum line problem can be resolved.
I had a root canal and a crown done here, the entire process took about an hour. Will be back in 2 weeks for my final crown! Great doctor, great staff.
Michael John

From start to finish great experience. Impeccably clean office, high tech tools, & friendly staff. Went to get my top teeth contoured/shaped. They did a Hollywood star job! I now have a flawless smile. I even went back the next day for a touch-up on one tooth & they took care of it, graciously. If you want quality cosmetic dentistry inside the loop; look no further. These folks are the best in class
Joshua P.

In town for a conference. Chipped a front tooth before my presentation. Called URBN and they got me in same day. Very efficient office. In less than 1 hour I was back together. Thanks again
Joel

Just a few days after a visit with Dr. Bridget and I already feel the positive effects on my dental hygiene. She gave helpful and practical tips to brushing and flossing to make my routine more enjoyable. Everyone at URBN Dental Uptown was attentive and courteous to my needs from handling the insurance/financials to ensuring a pain/mess-free cleaning and filling. Looking forward to returning with improved dental health!
Ryan Z.

I've never been to a more thorough and comprehensive dental appointment as the one at URBN Dental! They went over all of the photos and x-rays with me in detail to help explain all of the issues I had, and it's the first time I fully feel like I understand why I need to floss more consistently. They taught me how to properly floss and brush, and I even got a new electric toothbrush with my appointment. Would definitely recommend.

Julia B.

Excellent service. Great first impression! Best cleaning I've had in several years, my mouth feels amazing. They even took the time to show me how to brush more effectively. My teeth are back to being pearly white. They were very knowledgeable in regards to my insurance and I've had no issues. The service there is impeccable!
Michelle C.

Signs of Gingivitis
There are a number of gingivitis symptoms that you should be wary of. If you notice any of these warning signs, then you should prepare yourself.
Gum Disease Cure | Gingivitis Treatment Houston
Gingivitis can be reversed when caught in the earliest stages. Without Gum Disease Treatment Houston, however, it may progress to periodontal disease, the loss of bone structure, and missing teeth. If you experience any of the symptoms of gingivitis, make an appointment now. Speak to our dentist about treatment for gingivitis today.
What's the root cause of gingivitis in Houston?
Gingivitis is an inflammation of the gums that can progress into periodontitis, which is a serious infection of the tissues that support your teeth. Gingivitis is often caused by plaque, a sticky film of bacteria that forms on your teeth. Plaque irritates your gums, and your body responds by inflammation. Left unchecked, gingivitis can destroy the gums and bone that support your teeth.
Gingivitis Treatment | Dentist in Uptown Houston, 77027
Who gets gingivitis?
Poor oral hygiene is the most important risk factor for gingivitis. If you don't brush and floss your teeth regularly, plaque and tartar can build up on your teeth and gums. This can lead to gingivitis and other problems like tooth decay and gum disease. Other risk factors for gingivitis include:
Smoking: Smoking is a major risk factor for all types of gum disease.
Certain medical conditions: Diabetes, HIV/AIDS, and leukemia can all increase your risk for developing gingivitis.
Certain medications: Some medications, such as steroids and certain types of anticancer drugs, can cause your gums to become more susceptible to infection.
Pregnancy: Pregnancy can increase the levels of hormones in your body, which can lead to gum inflammation.
Dry mouth: This can happen if you take certain medications or have a condition that decreases saliva production. A dry mouth can make it harder to keep your teeth and gums clean, leading to a higher risk of bacterial problems.
Crooked teeth: If your teeth are crowded or misaligned, it can be more difficult to brush and floss properly. This can lead to plaque and tartar buildup, which can cause gingivitis.
If you have any of these risk factors, it's especially important to take good care of your teeth and gums. Be sure to brush twice a day, floss daily, and see your dentist regularly for cleanings and checkups.
How does a periodontal disease specialist near me diagnose gingivitis?
There are a few ways your dentist can diagnose gingivitis. One way is by looking at your gums. If your gums are red, swollen, or bleeding, you may have gingivitis. Your dentist may also use a tool to measure the depth of the pockets around your teeth. If the pockets are deep, it may be a sign of gingivitis.
How long does gingivitis last after treatment?
Gingivitis is an inflammation of the gums that can lead to tooth loss if left untreated. Treatment typically involves a professional cleaning, followed by daily brushing and flossing. Gingivitis usually disappears after a week or two of treatment, but it may take longer for the inflammation to completely go away. If the gingivitis does not improve after two weeks, or if it gets worse, you should see a dentist for further evaluation.
How many days does it take to cure gingivitis? Gingivitis specialist answers
To treat gingivitis, your dentist may recommend a deep cleaning. This involves scaling, which is the process of removing tartar and plaque from above and below the gum line. Your dentist may also recommend medicated mouthwashes or toothpaste to help control the bacteria in your mouth. In some cases, antibiotics may also be necessary to clear the infection.
With proper treatment, gingivitis can be reversed and your gums can return to their healthy state. It is important to continue to brush and floss regularly and see your dentist for regular checkups to prevent the recurrence of gingivitis. Generally speaking, it can take a few weeks for gingivitis to clear completely. But it can take even longer, depending on the severity of the condition.
What is the best treatment for gingivitis?
There are a number of different treatments for gingivitis, depending on the severity of the condition. In mild cases, gingivitis can be treated with improved oral hygiene. This includes brushing the teeth twice a day, flossing daily, and using an antibacterial mouthwash. The gums can also be treated with a specialized toothpaste or gel.
If gingivitis is more severe, a dentist may prescribe a mouthwash or gel that contains a higher concentration of antibiotics. They may also recommend deep cleaning, which involves removing plaque and tartar from the teeth below the gum line. In some cases, surgery may be necessary to treat gingivitis.
Book a Consultation for Gum Disease Treatment
We are experts in General Dentistry, Invisalign, and Cosmetic Dentistry. Most procedures have zero downtime, allowing you to resume regular activities the same day. Leave us your information, and we will reach out to help you verify your insurance coverage, and schedule an appointment at your premier Dentist in Houston Tx.