Professional Teeth Whitening Near Me
Professional porcelain dental veneers at the dentist is a procedure in which the dentist whitens your teeth by bleaching it and removing all surface stains. Please continue reading to learn more about the best teeth whitening before and after Procedures at the dentist.
Teeth Whitening In Office at the Dentist
Professional teeth whitening at dentist is a procedure in which the dentist whitens your teeth by bleaching it and removing all surface stains. Please continue reading to learn more about teeth whitening in office at the dentist.
What is Professional Teeth Whitening?
Professional teeth whitening at dentist is one of the most common cosmetic dentistry treatments out there. This is a procedure in which the dentist whitens your teeth by bleaching it and removing all surface stains. Professional teeth whitening before and after Procedures can help you achieve a much better and luminous smile. Professional teeth whitening near me is the best procedure out there because it's a lot faster and more effective, but there are also other teeth whitening procedures available. In this article, we discuss what is professional teeth whitening at dentist and how it works.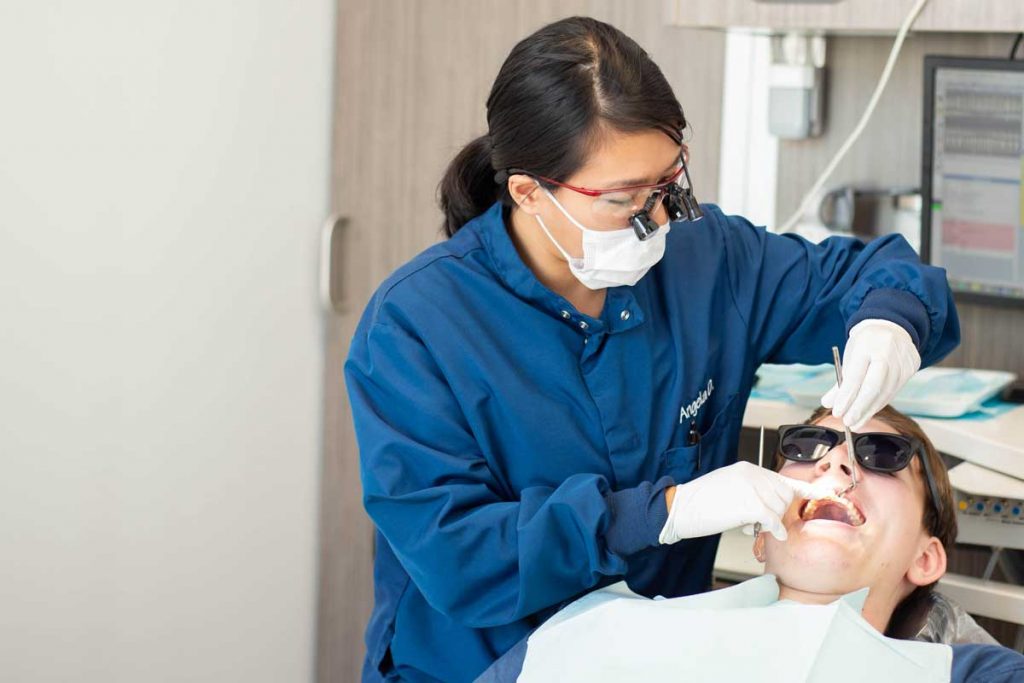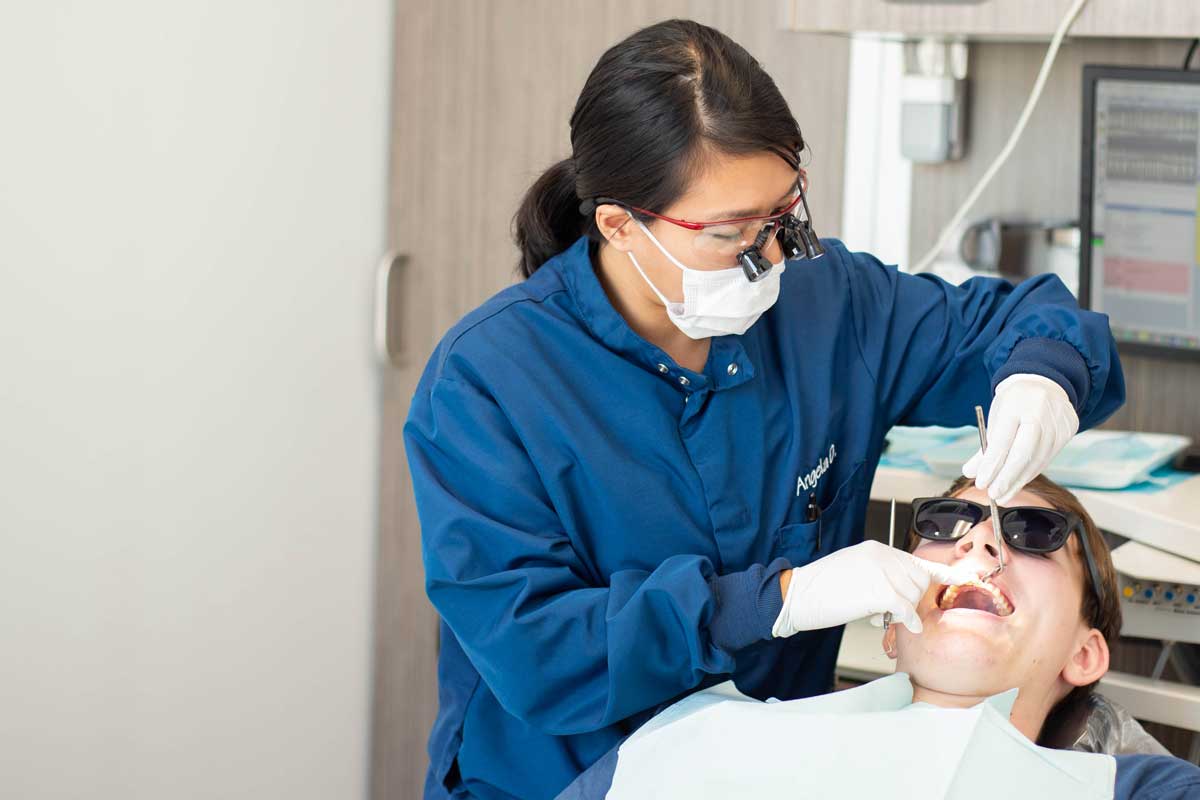 Why do you Need Teeth Whitening?
Teeth whitening isn't necessary but people seek it out because we all suffer from stained teeth to varying degrees. However, whether teeth whitening dental services are suitable for you or not depends on the root cause of your stained teeth. To figure that out, you need to understand why your teeth get stained, to begin with.
The following are some of the factors that determine the staining of your teeth.
Thickness of the Enamel: If you have thicker enamel, your teeth will appear brighter because it will hide the color of the dentin layer underneath the enamel. Unfortunately, your enamel wears off over time because of several factors, including age, which can reveal the underlying dentin layer, making your teeth appear yellow.
Color of the Dentin: The enamel is translucent, so the color of your teeth often depends on the color of the underlying dentin layer. Some people have generally whiter dentin while some have generally yellower dentin. This isn't something you can control or even treat with teeth whitening.
Porousness of the Enamel and Surface Stains: Porous enamels are more likely to retain stains, which makes them appear yellow and discolored. While you can't control the porousness of your enamel, you can control how stained it is.
Intrinsic Stains: Some people have generally yellow teeth because of intrinsic stains, in which case you can't really treat it with teeth whitening procedures. Your teeth get intrinsically stained because of exposure to fluoride as a child or if your mother consumed tetracycline antibiotics while being pregnant.
So now you understand all the different reasons why your teeth may appear stained. You can't do anything about the color of the dentin, the thickness of the enamel, or the intrinsic stains. But, if your teeth appear discolored because of surface stains, then you can go for professional teeth whitening.
The following are some of the main reasons your enamel gets stained:
Smoking and tobacco stain the teeth drastically.
Beverages that contain tannic acid, such as red wine, lead to staining of teeth.
Excessive alcohol consumption can lead to the staining of teeth.
Tea and coffee consumption can also stain your teeth.
Poor oral hygiene often leads to stained teeth because you don't get rid of all the surface stains well enough.
Importance of Teeth Whitening in Office
In office teeth whitening is extremely important if you want a bright and luminous smile. Do you find that your teeth remain yellowed no matter how much you brush your teeth? If so, it may be because of intense enamel staining. Teeth whitening in office uses a strong whitening gel or bleaching agent to get rid of all of those surface stains to restore your teeth's original color.
Professional teeth whitening in office, however, is only suitable for people who have stained enamel. If your teeth appear discolored for other reasons, such as intrinsic stains, then teeth whitening won't help much. That's why it's important to consult a reputable dentist who can study your teeth and determine if professional teeth whitening in office is suitable for you. If you do have intrinsically stained teeth, you can still go for other alternatives like getting porcelain veneers or cosmetic bonding.
One Of The Best Teeth Whitening Services Houston
The teeth whitening procedure begins with a simple consultation. The dentist will take some photographs of your teeth and then study your exact shade and take note of it so they can monitor the progress and you can compare later. The dentist will also determine what's the root cause of your yellowed teeth. Based on that observation, the dentist will recommend the best type of teeth whitening procedure or if you should instead opt for another service altogether.
Vital whitening is the type of professional teeth whitening conducted on teeth with live nerves, i.e., on regular teeth that have not undergone a root canal. The dentist will apply hydrogen peroxide to your teeth and use a laser light to catalyze it and bleach your teeth to remove all surface stains. The procedure may take between 30 minutes to 90 minutes.
The dentist will clean your mouth and remove all bacteria before starting with the procedure. The following are the two types of professional teeth whitening services Houston in office.
Non-vital whitening is the type of professional teeth whitening procedure conducted on teeth that have undergone a root canal procedure. When you go through root canal, the doctor has to remove the infected pulp and live nerves from your teeth. In this case, the discoloration often comes from within the tooth rather than the surface enamel. In this case, the dentist applies a bleaching gel inside the tooth and seals it to whiten your teeth from the inside.
I had a root canal and a crown done here, the entire process took about an hour. Will be back in 2 weeks for my final crown! Great doctor, great staff.
Michael John

From start to finish great experience. Impeccably clean office, high tech tools, & friendly staff. Went to get my top teeth contoured/shaped. They did a Hollywood star job! I now have a flawless smile. I even went back the next day for a touch-up on one tooth & they took care of it, graciously. If you want quality cosmetic dentistry inside the loop; look no further. These folks are the best in class
Joshua P.

In town for a conference. Chipped a front tooth before my presentation. Called URBN and they got me in same day. Very efficient office. In less than 1 hour I was back together. Thanks again
Joel

Just a few days after a visit with Dr. Bridget and I already feel the positive effects on my dental hygiene. She gave helpful and practical tips to brushing and flossing to make my routine more enjoyable. Everyone at URBN Dental Uptown was attentive and courteous to my needs from handling the insurance/financials to ensuring a pain/mess-free cleaning and filling. Looking forward to returning with improved dental health!
Ryan Z.

I've never been to a more thorough and comprehensive dental appointment as the one at URBN Dental! They went over all of the photos and x-rays with me in detail to help explain all of the issues I had, and it's the first time I fully feel like I understand why I need to floss more consistently. They taught me how to properly floss and brush, and I even got a new electric toothbrush with my appointment. Would definitely recommend.

Julia B.

Excellent service. Great first impression! Best cleaning I've had in several years, my mouth feels amazing. They even took the time to show me how to brush more effectively. My teeth are back to being pearly white. They were very knowledgeable in regards to my insurance and I've had no issues. The service there is impeccable!
Michelle C.

OUR AWARD-WINNING PRACTICE HAS BEEN FEATURED IN






Schedule your Teeth Whitening Houston Appointment
At URBN Dental, our teeth whitening dentists thoroughly examine your teeth to ensure that you're a suitable candidate for professional teeth whitening in office. After the initial consultation, we curate a teeth whitening treatment plan specific to your needs and then carry on with the teeth whitening procedure to give you the most luminous smile possible. If you are searching for teeth whitening dentist near me, please schedule your instant teeth whitening dentistry appointment in Houston, TX.