Root Canal Dentist In Houston, TX
Caring for your smile means providing high-quality dental care that meets all of your dental needs. Our Houston dental care services are comprehensive, which means from a routine cleaning to a complex smile makeover, we can give you the care you need. The URBN Dental team is well-versed in a wide variety of dental treatments to help our patients get beautiful, healthy smiles. All major insurances accepted, including medicare.
What is a root canal?
During an emergency root canal, our best root canal dentist near me removes the infected pulp from inside the tooth and fills the pulp cavity with a compound known as gutta-percha. The tooth cavity is completed cleaned and disinfected, preventing an infection that can spread to other teeth. A tooth having undergone a root canal is usually topped with a crown to improve its durability and function.
Signs You Need a Root Canal?
A root canal is performed on a tooth with a pulp that has been damaged by decay, but much of which can still be saved. The pulp is the soft area within the center of your tooth containing blood vessels, nerves, and connective tissue. Symptoms that suggest you may need an emergency root canal include:
Swelling in the area of the affected tooth or that has spread to other areas of the face, head, or neck
A pimple or pus around the tooth
An abscess around the tooth
Visible cracks and painful in the toothaches
Sensitivity to hot and cold temperatures
Darkening of the tooth
Benefit of the Wave One Root Canal Method
This procedure for Root Canal in Houston, TX is one of the most state-of-the-art ways to prepare a tooth for the best root canal dentist near me. It offers superior safety, cutting efficiency, and the fewest number of files. This makes the procedure easier and more comfortable for you, the patient.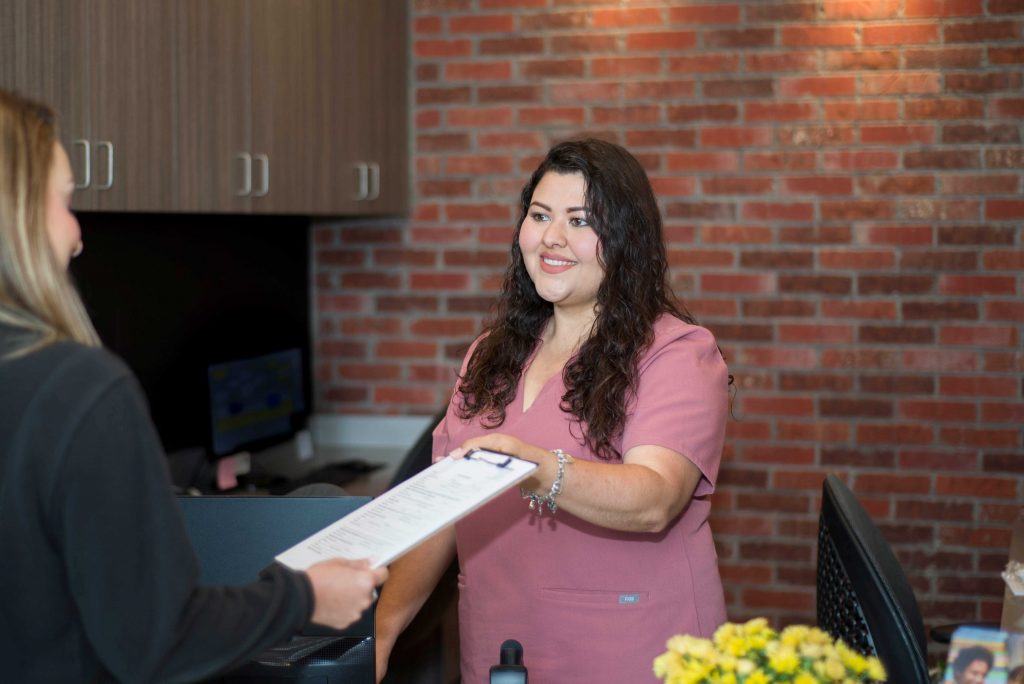 The pain result of not having an Emergency Root Canal Treatment performed is far greater than that produced by the procedure itself.
You're put under local anesthesia during the procedure, so you really feel no pain. You may have some soreness and sensitivity in the treated area for a day or two afterward, but over-the-counter pain medications usually help.
Dr. Nguyen gives you complete care instructions for the immediate care following the procedure. Once you've had the root canal procedure completed and any crowns or implants placed, you treat the tooth just like you would any natural tooth in your mouth. Regular brushing, flossing, and professional cleanings keep up your oral health so you can avoid the need for future root canal dental care.
I had a root canal and a crown done here, the entire process took about an hour. Will be back in 2 weeks for my final crown! Great doctor, great staff. Michael John
From start to finish great experience. Impeccably clean office, high tech tools, & friendly staff. Went to get my top teeth contoured/shaped. They did a Hollywood star job! I now have a flawless smile. I even went back the next day for a touch-up on one tooth & they took care of it, graciously. If…
In town for a conference. Chipped a front tooth before my presentation. Called URBN and they got me in same day. Very efficient office. In less than 1 hour I was back together. Thanks again Joel
Just a few days after a visit with Dr. Bridget and I already feel the positive effects on my dental hygiene. She gave helpful and practical tips to brushing and flossing to make my routine more enjoyable. Everyone at URBN Dental Uptown was attentive and courteous to my needs from handling the insurance/financials to ensuring…
I've never been to a more thorough and comprehensive dental appointment as the one at URBN Dental! They went over all of the photos and x-rays with me in detail to help explain all of the issues I had, and it's the first time I fully feel like I understand why I need to floss…
Excellent service. Great first impression! Best cleaning I've had in several years, my mouth feels amazing. They even took the time to show me how to brush more effectively. My teeth are back to being pearly white. They were very knowledgeable in regards to my insurance and I've had no issues. The service there is…
Book a Consultation
We are experts in General Dentistry, Invisalign, and Cosmetic Dentistry. Most procedures have zero downtime, allowing you to resume regular activities the same day. Leave us your information, and we will reach out to help you verify your insurance coverage, and schedule an appointment at your premier Dentist in Houston Tx.